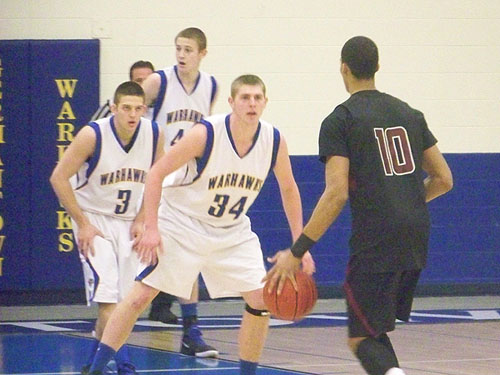 This weekend, sixteen teams in all five divisions in boys high school basketball will battle for four spots in the WIAA state tournament next week in Madison. However, I'll focus on the Division 1 bracket.
As I looked at the remaining teams in the bracket in the sectional rounds, there is a team that threw a monkey wrench into the plans and crashed the party. Sussex Hamilton wasn't supposed to be there, but their undersized team were the underdogs and managed to upset No. 2 Homestead and No. 3 Arrowhead, both on the road.
Let that be a warning to Germantown. I watched them shred Menomonee Falls to pieces last Saturday. The Warhawks can't let up now. They have to keep their foot on the gas. Their coach, Steve Showalter, won't allow the players to look ahead and think that they have an easy win against the Chargers. Showalter knows that Hamilton have some good shooters, and extending their pressure defense will give them the advantage to win.
The Warhawks won all their games so far by getting a fast start and maintaining a lead. They don't like to play from behind. If Hamilton pulls off the upset, not only will the Germantown basketball community be disappointed, but the returning players will have all summer to think about what happened. I see a blowout by Germantown. Those two teams will play Thursday at 8:30 p.m. at Waukesha North.
On the top half of the sectional 2 bracket, I'll go out on a limb and take De Pere over Sheboygan North in Ashwanbenon, assuming North beats Bay Port in the game Monday that was postponed from last week due to bad weather. It will be a Germantown and De Pere final Saturday in Manitowoc and the Warhawks should win.
The two "Memorials," Madison and Beloit, is my pick to meet in the sectional 3 final Saturday night at Kettle Moraine. I think Middleton will beat Sun Prairie in their makeup game Monday and lose to Madison Memorial Friday. Beloit Memorial should beat Mukwonago in their contest Monday and get a win over Burlington Friday.
Milwaukee King should have no problem handling West Allis Central at Central in the sectional 4 bracket Thursday. Milwaukee Hamilton may have their hands full with Racine Park, but their mojo will give them the win over the Panthers, setting up an all-Milwaukee sectional final between Hamilton and King in all places, Racine, at Horlick, on Saturday.
D.C. Everest should beat La Crosse Central and Oshkosh North will beat Appleton North. I see an Everest-North sectional 1 final Saturday at Stevens Point with North going back to Madison.
These teams will watch film, read their scouting reports and try to prepare as best they can. But if you ask Sussex Hamilton if their outcome of their upsets came from their preparation or from luck, they might tell you that it didn't matter because Cinderella is in the house.