This season, the Milwaukee Panthers have gone a long way. They led the Horizon League standings until just before the halfway mark of the season, and they still have a fighter's chance at scoring a top two seed and the bye to the conference tournament semifinals that goes with it.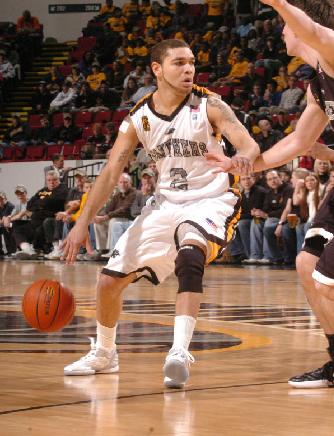 There's no doubt that the team has had a rough go of it the past couple weeks, but a Milwaukee championship isn't the only beautiful thing that is still within reach.
If you're visiting the website for the first time today, you'll notice that we have two new pictures flanking the sides. On the left, you'll notice that Ryan Allen has six blocks remaining before he breaks the Milwaukee Panthers all-time single season blocks record, represented by the number in front of a "POW" block from Super Mario. On the right, Kaylon Williams' chase for the all-time assists record is represented by the number in front of a dime, which as you know is a colloquial term for an assist.
On Saturday at Green Bay, Kaylon Williams' eight assists moved him into third place all-time post-1990, past Cyrus Caldwell of the Ric Cobb era. He now has 334 all-time, and is just seven behind all-time great Clay Tucker and eleven behind record holder Marc Mitchell.
Gerald Hardnett, who played for Milwaukee from 1975-1979, had 448 assists over his career. However, it's difficult to accept his accomplishments as true Division I because the schedule played by Milwaukee as a D-I independent in those years was very much the same kind of schedule they played as a D-III or NAIA team in the 1980's. We'll always accept Hardnett as the all-time record holder, but there's a reason Milwaukee Athletics keeps post-1990 records and not all D-I records, as that would include much of the 1970's. So, for all intents and purposes, we'll recognize Marc Mitchell as the D-I assists record holder.
That means that Kaylon Williams will likely pass up Mitchell this weekend in two games against Detroit and Wright State. While they aren't at home, the following game with Cleveland State on Valentine's Day should bring Milwaukee Athletics to recognize this feat just before the game or at halftime.
We are a school with precious few traditions, and real records are something that we need to cling to. Alumni from the early 1990's would be delighted to see Kaylon Williams and his parents greeted at half-court by Marc Mitchell and his family (don't think I'd leave Austin out of something so powerful). Alumni from the late 1970's would be blown away to see Gerald Hardnett and his family come out to celebrate this passing of the torch.
It's a very, very powerful moment that needs to be recognized - Kaylon Williams has put every bit of himself into our program the past two seasons and he deserves to have this accomplishment, the ultimate team-over-individual record, recognized in front of our crowd. It also does a great thing by bringing back two Panther greats in Gerald Hardnett and Marc Mitchell to recognize everything they've done in front of a home crowd they never got a chance to play.
The same goes for Ryan Allen. Single-season records are of course not at the same level as career records - this much is true - but the blocks record deserves to have the same recognition. Currently, the record is 37, held by Dylan Page and Eugene Sims. I know that Dylan is overseas in France still playing professionally, but Eugene Sims may be available. Perhaps there is a way to get Dylan Page to send a video message - just a short 30-second video or so - congratulating Ryan Allen on breaking the record.
It is likely that the record will stand heading into Milwaukee's game with Cleveland State - Allen has two games to rack up six blocks just to tie - but by the time Fairfield rolls into town for the Bracketbuster, Ryan Allen should have swatted his way to the record. Honestly, he should have 34 after the Green Bay stat-taker screwed him on Saturday, but it is what it is.
The point is, these are opportunities for the Milwaukee Athletics program to recognize a few of their greats while also putting together the celebration for wonderful things being done by these players in this season.
So join me, demand that Milwaukee Athletics recognize the accomplishments of Kaylon Williams and Ryan Allen in front of the crowd, and bring back the all-time greats in Gerald Hardnett, Marc Mitchell, Eugene Sims and Dylan Page.