Missing an inside presence with Davante Gardner on the sidelines with a sprained knee, it was Vander Blue who stepped up to carry the load as the Marquette Golden Eagles came back from another slow start to take care of Seton Hall 66-59.
Not only does Inside The AL's Todd Warner has the story, he's also got Vander Blue's game changing alley-oop.....
Certainly by now you have noticed that Dwyane Wade and LeBron James were in the house...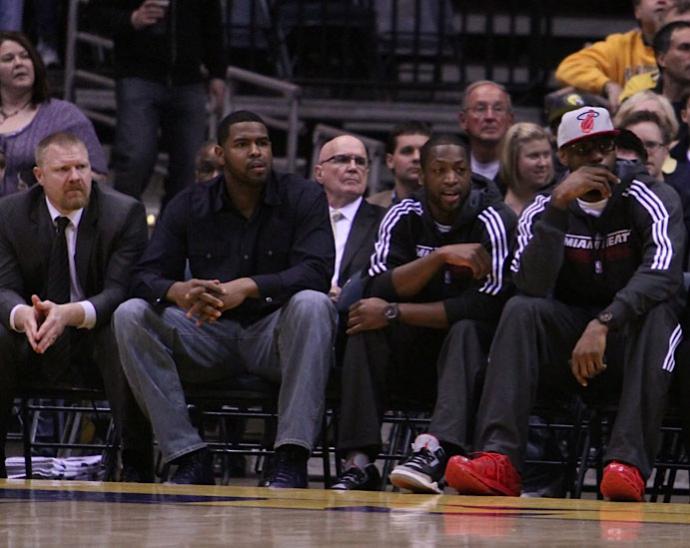 MUTV's Tess Quinlan caught up with Dwyane....
Marquette Golden Eagles

Player
MIN
FG
3P
FT
OR
REB
AST
STL
BLK
TO
PF
PTS
Jamil Wilson
36
4-12
0-0
1-3
3
4
3
1
1
2
3
9
Jae Crowder
38
6-11
0-4
8-9
0
12
0
2
1
0
1
20
Junior Cadougan
29
0-1
0-1
5-6
0
2
6
1
0
4
2
5
Darius Johnson-Odom
39
4-12
3-7
3-4
0
5
7
1
0
3
3
14
Vander Blue
29
7-10
1-2
1-4
5
8
1
1
1
3
2
16
Jamail Jones
2
0-0
0-0
0-0
0
0
0
0
0
1
0
0
Juan Anderson
2
0-0
0-0
0-0
0
0
0
0
0
1
0
0
Todd Mayo
16
0-2
0-2
2-2
0
1
0
1
0
2
1
2
Derrick Wilson
9
0-0
0-0
0-0
0
3
0
0
0
1
1
0
TOTALS
21-48
4-16
20-28
8
35
17
7
3
17
13
66
43.8%
25.0%
71.4%
Seton Hall
Player
MIN
FG
3P
FT
OR
REB
AST
STL
BLK
TO
PF
PTS
Herb Pope
28
8-14
0-1
0-1
2
7
0
3
0
4
4
16
Aaron Geramipoor
16
2-6
0-0
0-0
6
6
0
0
0
1
3
4
Jordan Theodore
38
3-14
1-4
0-0
0
2
7
0
0
1
3
7
Haralds Karlis
17
0-1
0-0
0-0
0
1
0
1
0
2
1
0
Freddie Wilson
15
3-4
1-2
0-1
0
2
3
0
0
1
3
7
Fuquan Edwin
36
5-12
1-3
2-2
0
5
4
3
0
3
4
13
Patrik Auda
18
1-4
0-0
0-0
1
2
1
1
0
2
1
2
Aaron Cosby
14
1-2
1-2
0-0
0
1
2
0
0
1
0
3
Brandon Mobley
18
2-6
1-3
2-2
2
6
1
1
1
1
0
7
TOTALS
25-63
5-15
4-6
11
32
18
9
1
16
19
59
39.7%
33.3%
66.7%
Technicals: None
Officials: John Cahill, Earl Walton , Roger Ayers
Attendance: 13,828