Marquette Pre-Game release
The No. 17/18 Marquette University men's basketball team (16-4, 5-2 BIG EAST) returns home to face USF (12-8, 5-2 BIG EAST) Tuesday night at 7 p.m. CT in BIG EAST Conference action. The BIG EAST Network will feature the television broadcast, with Mike Gleason (play-by-play) and Mike Kelley (analyst) calling the action. Sports32 will air the game in the greater Milwaukee and Green Bay areas. Following the matchup with the Bulls, the Golden Eagles will travel to Villanova on Saturday, Jan. 28 to complete the first of three home-and-home league series (Georgetown and Cincinnati).
Marquette shot 53.7 percent from the field overall in the win at Providence, thanks in large part to a record-setting effort from behind the 3-point line.
The Golden Eagles finished the 79-72 victory with a 9-of-11 (81.8 percent) performance from long distance, the best single-game team percentage (minimum 10 attempts) in school history. Four different players (Darius Johnson-Odom, Jae Crowder, Jamil Wilson and Todd Mayo) contributed at least two of the makes, including a perfect 3-of-3 effort from Johnson-Odom. Marquette's percentage is also the best by any league program to this point in 2011-2 campaign.
The previous mark of 80.0 percent (12-of-15) came against Tulane on Jan. 27, 2001.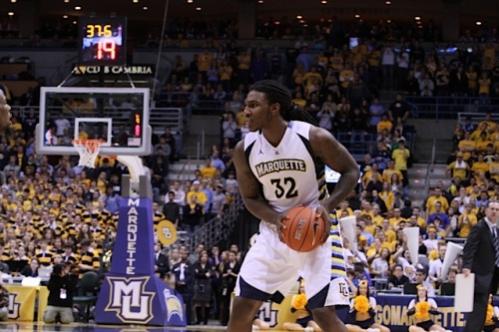 Crowder's Versatility Proven In League Statistics
Senior forward Jae Crowder, who finished with 18 points and six rebounds in the win at Providence, is one of the most versatile players in the BIG EAST Conference according to the league statistics.
Through games of Jan. 22, Crowder is the only player in the league to be ranked among the top-15 in seven different statistical categories (see box to right). His contributions are being made at both ends of the court, where he ranks in the top-10 in both offensive and defensive areas.
Jordan Theodore (Seton Hall) and Kevin Jones (West Virginia) are both ranked in six different categories.
Jamil Wilson Collects Career Highs In Win
Sophomore forward Jamil Wilson, who redshirted in 2010-11 after transferring from Oregon, collected his best all-around game as a Golden Eagle in Saturday's win at Providence.
The Racine, Wis., native scored 13 of his career-best 16 points in the second half and also grabbed a personal-high seven rebounds. Wilson finished 7-of-13 from the flor and knocked down both of his 3-point attempts. Four of his boards came at the offensive end and he also blocked three shots in a career-high 33 minutes of action.
Prior to Saturday, Wilson had only reached double figures in points on two occasions and had never grabbed more than five rebounds in one game.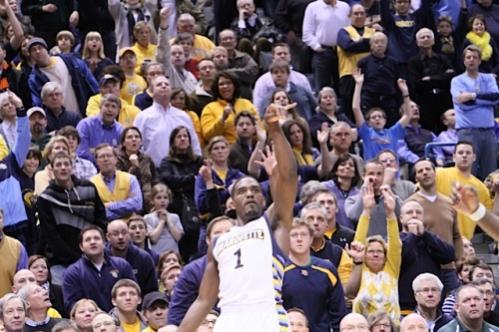 Johnson-Odom Among Nation's Top Scorers
Senior guard Darius Johnson-Odom, in just his third season with the Golden Eagles, continues to climb the school's all-time scoring list.
The Raleigh, N.C., native led the squad with 18 points in the win over Providence and is now 19th all-time in MU history with 1,371 points. Through games of Jan. 22, Johnson-Odom's 18.2 points per game ranks third among BIG EAST players and 41st nationally.
Johnson-Odom has reached double figures in every game this season and 32 of the last 33 (7 points vs. North Carolina in Sweet 16) overall dating back to last season. Should he maintain his current scoring average, Johnson-Odom has an outside shot at finishing among the program's top-10 scorers in the 95-year history of Marquette basketball.
Last week, Johnson-Odom was tabbed to The John R. Wooden Award Midseason Top 25 list for his efforts thus far in 2011-12.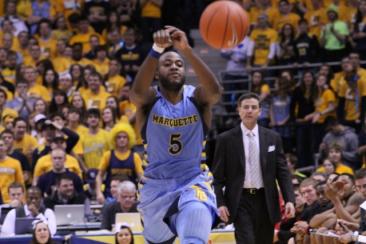 Offense At Its Best With Quality Distribution
Guard Junior Cadougan finished with a team-best 10 assists in the victory over Providence, marking the 13th time this season he has led the squad in that category.
For the season, Marquette is 13-0 when Cadougan finishes with six-or-more assists. The Toronto, Ontario, native ranks fifth in the league in assist-to-turnover ratio (2.33) and fifth in assists per game (5.63).
With Cadougan in his first season as the full-time point guard, MU is averaging 76.8 points per game, the second-best mark among BIG EAST programs. Marquette has assisted on an impressive 65.8 percent (352-of-535) of its overall baskets, a mark that jumps up to 69.6 percent (126-of-181) in league play.
Through games of Jan. 22, Marquette ranks sixth in the nation with an average of 17.6 assists per game.
Buzz Williams Nears 100 Career Victories
Following Saturday's victory over Providence, fourth-year head coach Buzz Williams owns an overall record of 99-58. He has compiled an 85-41 mark at Marquette in just over three seasons, which includes a 37-24 record in league play.
Williams was 14-17 at New Orleans in his first season as head coach in 2006-07.