Make no mistake, this isn't a team that is acting like it has no room for error.
The Detroit Titans are acting completely opposite, playing loose and filling the buckets up as if they were the ones sitting in first place.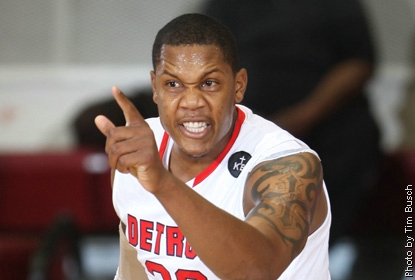 But the proof is in the pudding. If Detroit loses at Milwaukee tonight at 7 p.m. at the U.S. Cellular Arena, the conference championship race is all but over for the Titans.
Coach Ray McCallum's team began the Horizon League season 1-4, but has won two in a row. The Titans upset Butler in a surprisingly easy game at home, then this past Thursday took a decisive victory over the Green Bay Phoenix.
The big news from Detroit is its big man, senior center Eli Holman. Since returning to the lineup, the Titans are 5-4 and Holman has been no small part of that, scoring double figures in all but three of those games (Alabama, Alabama State, Butler).
Leading the Titans in scoring, assists and steals is none other than Ray McCallum Jr., the McDonald's All-American who is in his sophomore season as the point guard and focal point of father Ray Sr.'s offense. Ray Jr. is also pulling down 4.8 rebounds per contest, fourth on the team, and is shooting 45% from the field.
The interesting thing about Detroit's desperation is that it is nothing new this season.
No team in the conference has had as interesting a fall semester as the Titans, who saw both Eli Holman and P.J. Boutte get arrested as well as Chris Blake and Brandon Romain sit out after being academically ineligible. These problems were compounded when senior forward Nick Minnerath tore his ACL at Bowling Green and was forced into a medical redshirt.
It was this desperation that forced the Titans' hand, bringing back Eli Holman in an extremely questionable move as his assault case is still pending. Maybe they thought people would forget; I certainly did not. The senior center is not starting and is only playing 22 minutes per game, but the team would be completely lost without him. He leads the team in rebounds per game and is second in blocks per game, helping a team that went 2-4 in between Nick Minnerath's injury and Holman's return to game action.
The Titans center has attempted double digit shots only twice so far this season, both in high scoring affairs. He was extremely limited in the Butler game, attempting only three shots and scoring two points while only playing 15 minutes in the victory.
No player has scored more points in the Horizon League this season than Chase Simon, Calihan Hall's resident volume shooter. Despite outscoring everyone with 266 points this season and being fourth in scoring at 14.9 points per game, Simon is shooting a pedestrian 38.3% from the field and only 30.3% from beyond the arc. The shooting guard has also shot 240 attempts, 14 more than the next best Horizon League player (Ben Averkamp) and 19 more than Ray Jr. If one thing is to be said about the Titans' guards, it's that no one is aching for more shots.
The Titans play a loose style of basketball that relies on their talented point guard to be a sort of jack of all trades to set up the offense. Ray Jr. fills that role for Detroit, and although the ball doesn't get down to Eli Holman nearly as much as it should, they still get their share of victories. The Titans can score from nearly anywhere on the floor, which makes defending them a tall task, even for a defensive juggernaut like the Panthers.
Still, at 3-4 with eleven games remaining on their schedule, the Titans are running out of time fast. Since Valparaiso bumped conference membership up to ten, the conference champion has never had more than five losses in any given season. In fact, second place (and the double bye that goes with it) has never gone to a team with more than six losses.
So when we say that Detroit has no margin for error, we mean it. The Titans are one of the most talented teams in the Horizon League, but talent will only get you so far.
We'll see just how far it gets them tonight.